Much of business today revolves around import and export activities. Besides the fact that most businesses rely on an international economy, international trade agreements. If you're thinking about a first-time career or a career change, now's the time to get your import export education.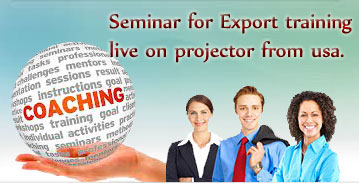 Keep these import training issues in mind when searching for import export education opportunities:
1. Most college business programs now incorporate international business and export training course work into their curriculums.
2. You can select an import export degree specialization when pursuing a variety of business degrees.
3. You can also get import and export education and training without going through a traditional degree program.
Benefits of the Seminar

1. Any one who is interested to start an export business, not important he is a well educated person.
2. For Student it is benifited to get basic knowledge for working in an export firm.
3. Any one who is interested to learn international trade of export and import.
4. Employees or management who have been working with import export companies.
5. Employees or management who have been working with shipping and freight forwarding companies.
6. Employees or management who have been with buying agents, export-import trading companies, merchandising companies etc.
7. Students who specialize in the field of international trade, import export firms, shipping and freight forwarding companies, Clearing and forwarding agents, buying agents, merchandisers etc
Details of the seminar with date and for payment will be given you soon
very limited seats on first come first serve basis